What You Can Learn from TED Speakers for Your Essays and Speeches
by
Paper4college
in
Other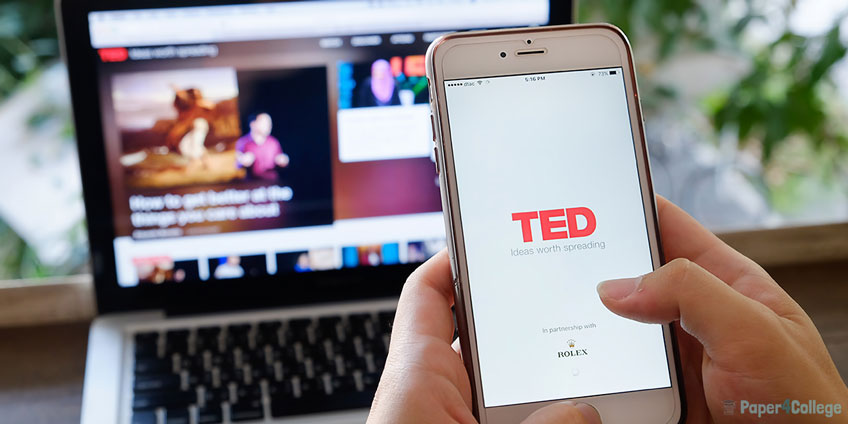 TED talks are very popular right now. The website offers a wide range of videos on every topic conceivable. There are even videos which will help you write a great essay. The secret of the videos is in speakers. Here are a few things that make them unique. You may borrow some tricks for your speech or essay writing.
They Know How to Give a Good Speech
First and foremost, everyone knows how great TED speakers are at giving a speech. Building an idea inside the minds of an audience isn't an easy task, but they do it great. The secret is that they limit their talks to just one major idea. This way a listener can understand better what a speaker says. They also give context and share examples to make a speech more vivid. So, when I write my essay, I follow the same technique and focus on a specific aspect!
Engage Others
If you want to give a good speech, you should focus not on what the audience might think of you but on how you're going to transfer the idea into your listeners' minds and stir their curiosity. This is the key to a great speech: to know how to engage and stimulate listeners. It's important because if communicated properly, your speech can change the way people see the world.
By the way, if you decide to order speechwriting at Paper4College.Com, let the writer know about your audience.
Short Enough to Be Interesting
TED methodology might also force educational authorities to re-examine a traditional academic lecture. One of the main features of TED videos is that they are short. We can't just change the face of a lecture and make it 18-minute long. But what we can do is to get rid of the idea that the only responsibility of a teacher is to provide a student with factual information and study materials, as well as essay assignments to be written. Although TED presenters usually look like they have not prepared at all, they were actually well-coached and instructed to follow a specific presentation formula while keeping their audience engaged. So, a good lecturer also must spark student's interest. This is a basic tenet of high-quality teaching and learning.
Their Worldview
One of the things all TED speakers have in common is the way they look at the world. They send powerful messages and promote kindness, compassion, and empathy by presenting such talks as "What we can do about the culture of hate?" and "Want to change the world? Start by being brave enough to care". We rarely talk about such things even though we know how important they are. TED talks help us find a way through our challenges and be better versions of ourselves.
In addition, the website offers a lot of videos on the topic of Internet and online communication. There is one video that I like most. A speaker shares his experience of replying a spam email.
One of the video makers also decided to give a talk on how he called the people who wrote mean comments under his videos.
As we can see, TED speakers encourage you to have a more positive attitude to life and not to get upset about trivial matters, but to try turning them into something good.
With that said, if you don't like writing essays but want to become a writer, try to look at it differently. Maybe, you don't like the way an essay should be structured. Then, you may want to think about creating your own structure. Or maybe, you are not on good terms with your teacher and, as a result, associate writing essays with some bad experiences you've had with him/her. In this case, try to concentrate more on the process of studying rather than on your relationship with the teacher. 
Leave a comment: